Heal-n-Soothe™ Frequently Asked Questions
Q: How often should Heal-n-Soothe™ be taken?
A: Heal-n-Soothe™ should be taken at least once per day and can be taken as often as three times per day on empty stomach: 30 minutes before or 60 minutes after meals for best results. Some people find that a single dose before bed works best. Begin by taking 2 capsules twice per day or 4 capsules once per day. If you do not feel a reduction in pain at that dosage, experiment with a higher dosage by gradually increasing the dosage by 1-2 capsules per day until you find what works best for you. *
Q: Are there any Side Effects?
A: Proteolytic enzymes have an excellent safety record, with no significant side effects reported. With any supplement, however, there is always the risk of developing an allergy to one or more ingredients. If this happens, you should discontinue use. *
Q: Is Heal-n-Soothe™ made with any animal product?
A: NO, Heal-n-Soothe™ is 100% natural and contains NO animal derivatives. *
Q: Can I take Heal-n-Soothe™ with other medications?
A: Individuals taking any medication should consult physician prior to taking Heal-n-Soothe™, it is recommended that you wait at least 60 minutes after taking Heal-n-Soothe™ before taking any medications. *
Q: Who should not take Heal-n-Soothe™?
A: Persons who suffer from medical conditions or who are taking medications should consult their physician prior to taking this product. This product may thin the blood and may not be appropriate for all persons. Do not take this product if you know or suspect that you are allergic to pineapple, papaya, or any ingredients in this product or suspect that you have an ulcer. As with all dietary supplements, those who are pregnant or nursing should consult their physician prior to taking this product.*

• Individuals taking prescription blood thinners (Coumadin, Heparin, Plavix)
• Anyone who will be having surgery in less than two weeks
• Individuals with known ulcers of the stomach
• Pregnant or lactating women
• Individuals currently taking antibiotics
• Individuals with an allergic reaction to pineapples or papayas
• Individuals under the age of 13
Q: How long should I take Heal-n-Soothe™?
A: Heal-n-Soothe™ can and should be taken daily along with your multi-Vitamin for as long as you want to keep inflammation in check and continued support for soft tissue recovery, improved joint function and maintaining a healthy immune response as well as support to cardiovascular and respiratory function. *
Q: Warning about Side Benefits?
A: It is possible that you may experience the following effects on the body.

• For individuals with sinus issues, you may experience some drainage for a short time as the mucus thins and is eliminated from the body. *
• For individuals with digestive issues, you may experience some gas or loosing of your stool as undigested matter is broken down and eliminated. *
• For individuals with borderline high blood pressure, as fibrin is eliminated from the body, there will be less resistance on the blood and thus your blood pressure could come down. *
• For women with Uterine Fibroids, you may experience some vaginal discharge as the Fibroid is broken down and is eliminated. *
Our Personal 90-Day Risk-Free… 100% Pain-Free Guarantee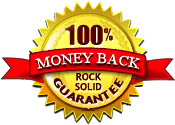 We're so confident in Heal-n-Soothe™that we want you to try it out completely risk-free. Test it out and see if it works for you.
For single bottle orders: If you don't feel significant improvement after trying Heal-n-Soothe for at least 2 weeks, simply return the used bottle and we'll gladly refund your purchase price (excluding shipping).
For multi bottle orders: Return all unopened bottles and we will refund a prorated amount based on the number of unopened bottles you have returned, (excluding shipping).
The statements made on our websites have not been evaluated by the FDA (U.S. Food & Drug Administration). Our products are not intended to diagnose, cure or prevent any disease. If a condition persists, please contact your physician. The information provided by this website or this company is not a substitute for a face-to-face consultation with your physician, and should not be construed as individual medical advice. The testimonials on this website are individual cases and do not guarantee that you will get the same results.